Event Overview Sales Monitoring
In the Event Overview section, you can access 2 distinct graphs:
1 - Sales Chart
It displays the number (#) and volume ($) of sales evolution over time.
You can compare this event with any other event: comparing from the launch date, or the event date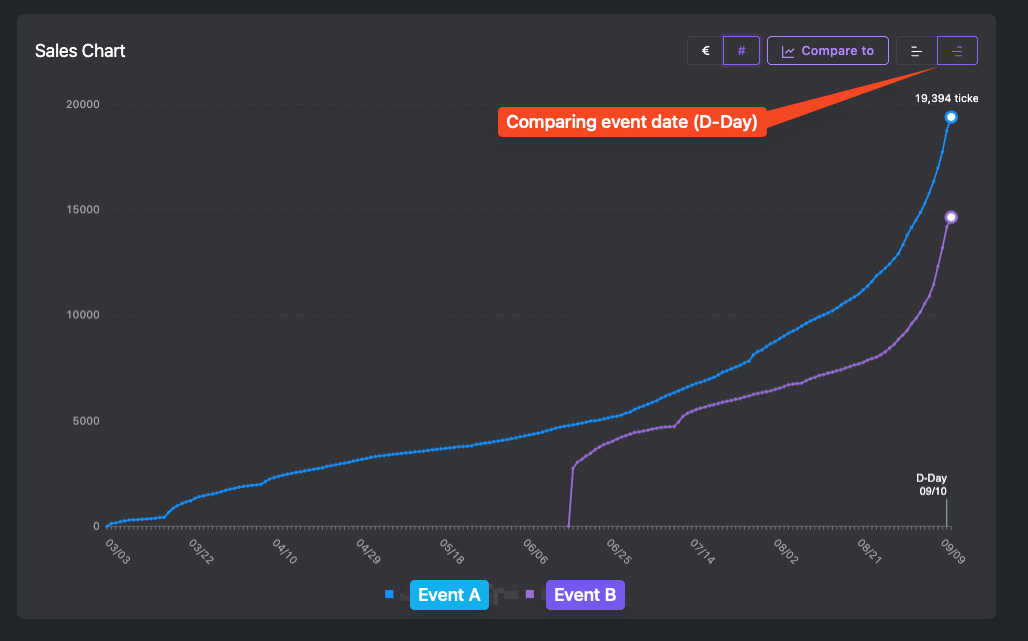 2 - Sales Chart Breakdown
It displays the sales evolution over time broken down by Sales Channel or Deal type
When select "by sales channel" in the dropdown, you will see the evolution of ticket sold over time per sales channel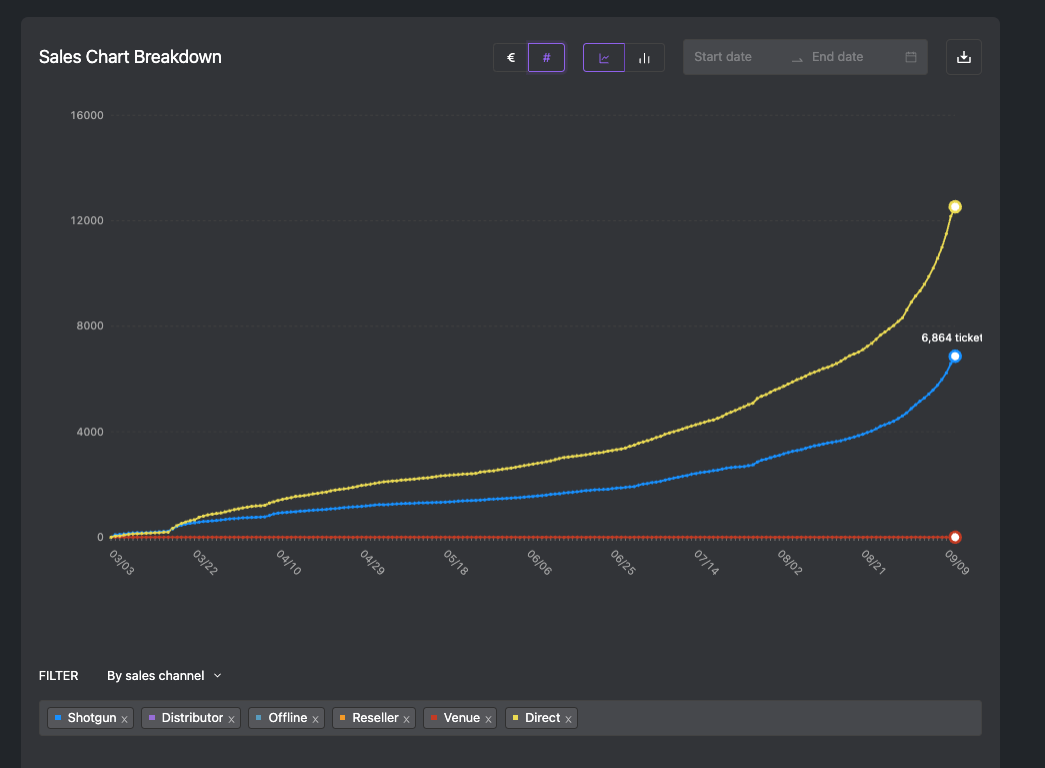 Shotgun

: Customers who found your event browsing on Shotgun (app or web) or thanks to Shotgun automated notifications

Distributor: Manually imported sales from other distributors
Offline: Tickets edited and sold directly (configured as "Sold offline" in the ticket advanced options)
Reseller: Reseller tickets (configured as "Reseller" in the ticket advanced options)
Venue: Tickets sold from the Shotgun Drawer (configured as "Venue" in the ticket advanced options)
Direct

: Every other sales. Usually coming from your website, your posts on social medias, or customers sharing event urls directly between them
Custom tracking: Tracking Links
You can generate custom tracking links to track more accurately the source of your sales
🏃‍♂️ How does it works
1. Generate a tracking link from the "Promotion" section of the Smartboard. This url is a specific url that redirects to your event page, but with a specific parameter to
2. Share this link on the dedicated channel: on a facebook ad, in a press article, to a specific influencer, etc.
3. Every click and sales coming from this link will be tracked 💫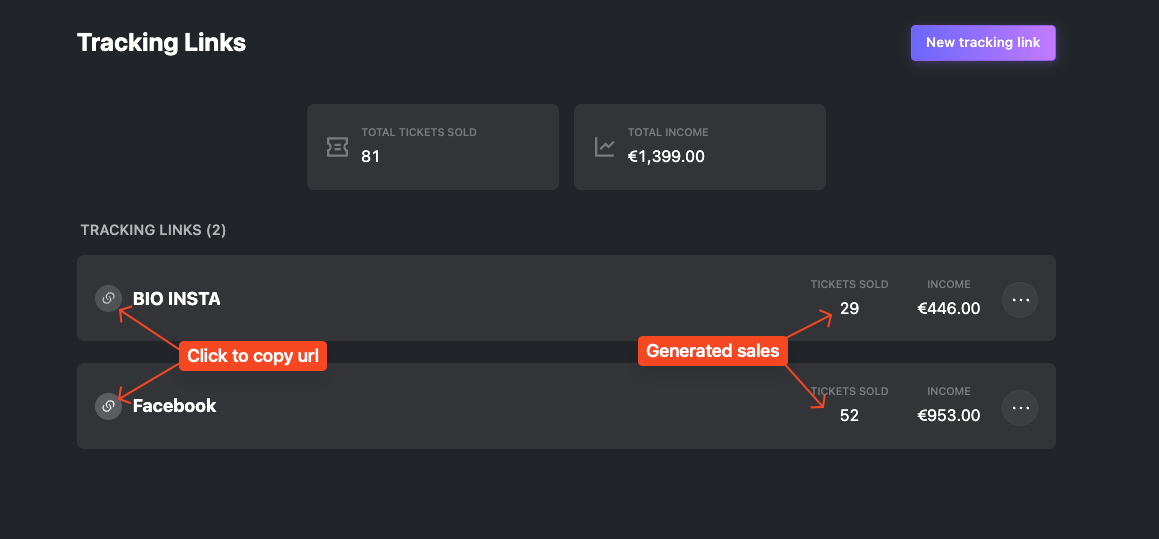 4. Sales: When exporting your sales CSV details from the "Orders" section of the Smartboard, you will find this information under the "utm_source" column: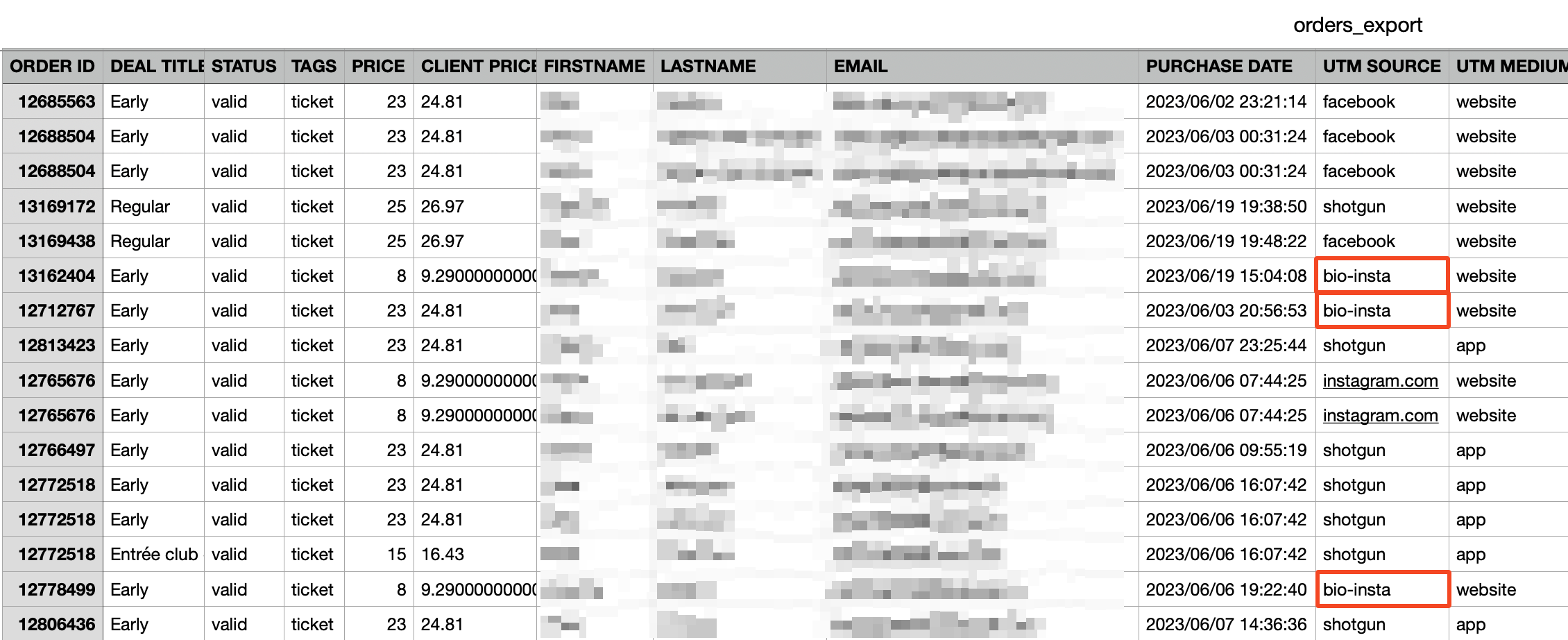 ❕ Resold / transferred tickets are currently not counted in sales tracking metrics, to avoid fraud.
5. Visits generated by each tracking link will also be visible from the Event Traffic section of your event (more information here)
🤔 How to use it?
We highly recommend you generate as many tracking links as you have marketing campaigns and channels. This will allow you to know precisely where do visits and sales come from: instagram? facebook? newsletter? influencer partnership? etc
With this information, you'll be able to optimize your marketing strategy !